Russ McDonald, M.D., D.A.B.P., F.A.A.P.
I attended Trinity University in San Antonio graduating with a degree in Physics and Biophysics and then enrolled in The University of Texas Southwestern Medical School in Dallas, Texas graduating in 1978. I stayed in Dallas to do a three year pediatric residency at Children's Medical Center and then went into a large private practice group initially, but founded Plano Pediatrics in 1988.
During my 36 year career I've helped over 7000 new parents and their newborns with practical advice when there's a problem and reassurance when things are fine. I've been selected as A Super Doctor by Texas Monthly Magazine, a Dallas Child Mom's Choice, a D Magazine Best Pediatrician and a Star Community Newspaper Best Pediatrician.
I've been Chief of Staff at both Medical City Plano Hospital and Medical City Lewisville Hospital and am currently President of the 600 member Patient Physician Network.
I founded Pediatrics After Hours, a pediatric evening and weekend urgent care, in 2007 which now has four locations across the Metroplex.
I been married to my wife Jeanne for 39 years and have three grown children:
•Meghan, who is an anesthesiologist at Zale Lipshy Hospital at The University of Texas Southwestern Medical School. Meghan and her husband Wayne, an oral surgeon, Have twin two year old children, Claire and Archer.
•Drew is a real estate attorney with Munsch Hardt. He and his wife Taryn, who is a health care attorney with Haynes and Boone, have a one year old daughter, Madison.
•Ryan is working on a second Masters degree at The University of North Texas in Library and Information Sciences.
My greatest enjoyment has been watching babies, my children and grandchildren, become toddlers, go to school, go to college, become young married adults and bring their children back to me as their pediatrician. In pediatrics, you truly become one of the family.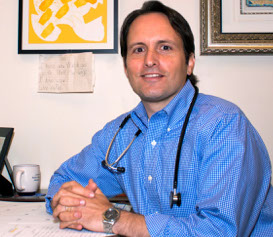 Scott Katz, M.D. D.A.B.P., F.A.A.P.
Originally from Chicago, I moved to Dallas in 1975 and attended St. Mark's Preparatory School. I graduated Cum Laude with a B.A. in Economics and Business Administration from Vanderbilt University and returned to Dallas to receive my M.D. from the University of Texas Southwestern Medical School in 1995. I then completed my three-year pediatric residency at Children's Medical Center in Dallas in 1998 and joined Dr. McDonald in practice at that time. In 2015, I completed an M.B.A. in Healthcare Management from the University of Texas at Dallas.
I have been married to Melissa since 1998 and have 2 sons, Jack (born in 2000) and Collin born in 2002). In my spare time I enjoy golf, skiing, reading, and especially my sons' sports and band.
I served as Chief of Pediatrics at the Medical Center of Plano in 2001, 2007 and from 2013-2016. I have served as the President of the 650+ member Plano Physicians Group since 2009, and have been a member of the clinical faculty at Children's Medical Center Dallas, the University of Texas Medical Branch at Galveston and the University of North Texas Health Science Center in Ft. Worth.
When Children's Medical Center of Dallas ventured into Population Health Management in 2012, I was hired to serve on the boards of their Clinically Integrated Network, Accountable Care Organization, Complex Care Medical Services Division and Dallas Physician Medical Services for Children. After helping them successfully launch their new initiatives, I resigned those positions in 2016 to focus on private practice and clinical research.
I have been voted the Best Pediatrician in Collin County 6 of the past 10 years, to D Magazine's list of the best pediatric specialists in Dallas, as well as to Texas Monthly Magazine's list of the best doctors in Texas every year since 2007.
Being a pediatrician has been a wonderful calling, and allows me to help parents shape their children's' futures.
Susan Avants, MSN, RN, C.P.N.P.
Susan is a native Texan, raised in West Texas throughout her childhood. Susan attended Undergraduate School at Angelo State University obtaining her Associates Degree in Nursing (1998) and then followed her passion to TexasWoman's University where she completed her Bachelor of Science in Nursing (2002) and Masters of Science in Nursing (2004). Susan is a Board Certified Pediatric Nurse Practitioner by the Pediatric Nursing Certification Board (PNCB). Susan's 19 year experience is rich in pediatric pulmonology, seasonal allergies, urology, conscious sedation, urgent care and immunology, but she has found her true calling and passion in the pediatric primary setting.
Susan has been a resident of Frisco since 2001 and is a very active member of her community filling her time by giving back to others. She volunteers for the North Texas Food Bank, Frisco Food Pantry, her local church group, medical mission work and many other local businesses and charities.
Susan enjoys spending time with her 25 yr old son, Chase as well as her spoiled grand dog Sadie. She also enjoys hunting, fishing, camping, traveling, swimming, gardening, cooking, shopping and spending time with family & friends.
Susan has worked for Plano Pediatrics PRN since February of 2012 and she currently works at Pediatrics After Hours when she is not at Plano Pediatrics.